Children in the age group of 4 to 5 years are always looking for new things to discover and explore. A crucial age when it comes to a child's development, this is the age your child becomes a dynamo of energy and is waiting to try out new things.
Here are some of the major milestones that children between the age of 4 and 5 achieve:
This is the period when children enjoy drawing and colouring
They start to understand about quantity and can identify and name colours
They are able to climb, skip, hop and run.
This is also the age when children show more independence, are eager to make new friends and are more likely to follow rules.
They are able to catch a throw a ball overhand
They are also able to speak clearly using complex sentences and enjoy singing and making up words
As parents and educators, it is important for us to make the most of these early years of our children by providing them with the right environment and by encouraging them to explore and learn from the experiences around them. All we need is the right set of tools, the patience to sit and have fun with our little one and dedicate time free from all distraction. After all, nothing beats learning and having fun with our children, does it?
Here are some activities for kids in the ages of 4 and 5 that are fun and engaging:
Dress up and roll play is a great way to make the child get creative and imaginative as they enact different roles
Singing counting songs can help children in this age group have fun with numbers
Develop coordination and build strength by teaching them how to use child friendly scissors and help them paste cutouts
A treasure hunt or creating an obstacle course is also a great way to further build their motor skills
You can also engage them with soft ball games like indoor basketball or catch
As parents of 4 to 5 year olds, many of us struggle to find ways to keep our little children entertained through the day. While it is important to inculcate a routine into their life, we know it has not been an easy task, what with the closing of schools and countless COVID -19 restrictions.
We have the ideal solution for you, the perfect activity boxes for a 4 year old. Klaytopia from the house of KLAY Preschools and Daycare, is a complete preschool experience that packs in 10+ years of preschool expertise, into a theme based learning box. Loaded with so much of fun stuff and activities to do, this box is by far the best activity box for children in India.
Here's why parents and children across the world love the Klaytopia box:
Exciting new themes every month
Each box comes with colourful activities for kids that cater to specific learning milestones and skill sets.
The Klaytopia activity box for pre-schoolers can be used independently as a learning tool or to supplement the learning your child is engaged in
Includes 30 hours of constructive engagement per month in the form of concept- based age appropriate activities, puzzles and conversation tips
Access to a digital gamified learning portal packed with video lessons and an exhaustive repository of worksheets
Comprehensive trackers and assessment charts to track your child's progress
Fortnightly access to our curriculum experts, child psychologists & a family counsellor
Certificate on completing 3 months in the Klaytopia program
An opportunity to bond and unwind with your child over weekends
The box comes loaded with lots of activities. Here are some favourite activities that are a part of the Klaytopia activity box for a 4 to 5 year old.
Roll and Move!
This fun-filled board game is all about discovering which body part can do what action along with the added advantage of practising simple reading! The child also gets to stretch and move around as a part of this dynamic game!
Skills in Focus: Language development and gross motor skills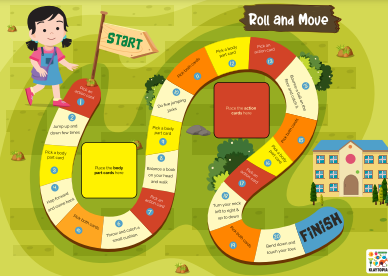 Families are Fun
"Families are Fun" not only revolves around family activities but is also a great way to ignite a child's imagination as they create their own families with the materials provided. This never-before activity of learning about the different stages of a human life cycle helps the child learn about sequencing and is a great activity for language development too!
Skills in Focus: Language development, general awareness and logical mathematical skills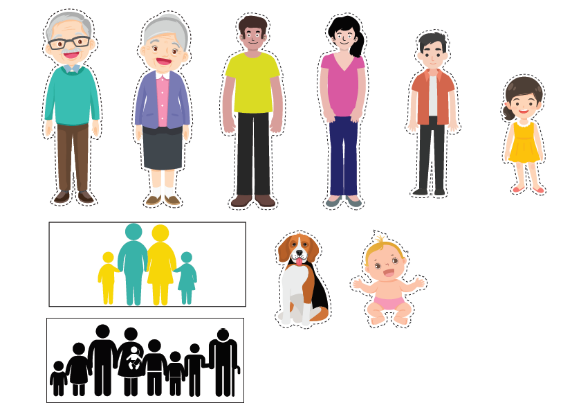 Whether you would like to use this box independently or as a part of the online learning system that augments your child's learning experience, the Klaytopia activity box is just ideal for the learning needs of your little one. And the best part? Through the activities in the box you can constructively engage your little ones and have fun as you learn, play and unwind with them.
To more about this wonderful box of joy to log onto – https://klaytopia.com/