Children in the age group of 3 to 4 years are always looking for new things to discover. A crucial age when it comes to a child's development, this is the period when a child's gross and fine motor skills develop.
Here are some of the major milestones that children between the age of 3 and 4 achieve:
This is the age when your little ones will show affection and understand your emotions
They will also learn how to share, take turns and help put on or remove clothes
An ideal age for parents to nurture their child's emotional and social skills as they express themselves through different means
Children in this age will learn how to walk up and down the stairs, one step at a time and also bend over without falling
They may also run more confidently and ride a tricycle
As parents and educators, it is important for us to make the most of the early years of our children by providing them with the right environment and encouraging them to explore and learn from the experiences around them. All we need is the right set of tools, the patience to sit and have fun with our little one and dedicate time free from all distraction. After all, nothing beats learning and having fun with our children, does it?
Here are some activities for kids in the ages of 3 and 4 that are fun and engaging:
Activities that involve matching and identifying basic shapes
Different kinds of animal movements like slithering like a snake, hopping like a frog or walking like a bear on all fours.
Games that will develop their motor skills and those that involve encouraging your child to walk forwards, zig zag, backwards, in a straight line or sideways
To encourage hand-eye coordination and balance, you can also ask them to balance a lime or a plastic egg on a spoon and walk
As parents of 3 to 4 year olds, many of us struggle to find ways to keep our little children entertained through the day. While it is important to inculcate a routine into their life, we know it has not been an easy task, what with the closing of schools and countless COVID -19 restrictions.
We have the ideal solution for you, the perfect activity boxes for a 3 year old. Klaytopia from the house of KLAY Preschools and Daycare, is a complete preschool experience that packs in 10+ years of preschool expertise, into a theme based learning box. Loaded with so much of fun stuff and activities to do, this box is by far the best activity box for our children in India.
Here's why parents and children across the world love the Klaytopia box:
Exciting new themes every month
Each box comes with colourful activities for kids that cater to specific learning milestones and skill sets.
The Klaytopia activity box for pre-schoolers can be used independently as a learning tool or to supplement the learning your child is engaged in
Includes 30 hours of constructive engagement per month in the form of concept- based age appropriate activities, puzzles and conversation tips
Access to a digital gamified learning portal packed with video lessons and an exhaustive repository of worksheets
Comprehensive trackers and assessment charts to track your child's progress
Fortnightly access to our curriculum experts, child psychologists & a family counsellor
Certificate on completing 3 months in the Klaytopia program
An opportunity to bond and unwind with your child over weekends
The box comes loaded with lots of activities. Here are some favourite activities that are a part of the klaytopia activity box for a 3 to 4 year old.
Its My Birthday!
A lovely activity to bring out the joy in your child, this role-play of a birthday party packed with fun activities like making a birthday crown, banner, cake, engaging in a Bingo game and a fun Treasure Hunt is tons of fun. A great way to spend time with family and friends, the activity is sure to bring a smile to your child's face as they get imaginative and learn how to express themselves in different ways.
Skills in Focus: Creative expression, fine motor skills, letter recognition, language development and communication skills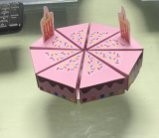 Healthy Me
One of the main roles of parenting is helping your child eat healthy meals. Worry no more, as the child dives into this exciting game and understands the benefits of healthy living!
Watch the child as he delightfully plays this game while doing the required actions, identifying fruits and vegetables, differentiating between healthy and not-so-healthy foods and learning how to be healthy.
Skills in Focus: General awareness and self-care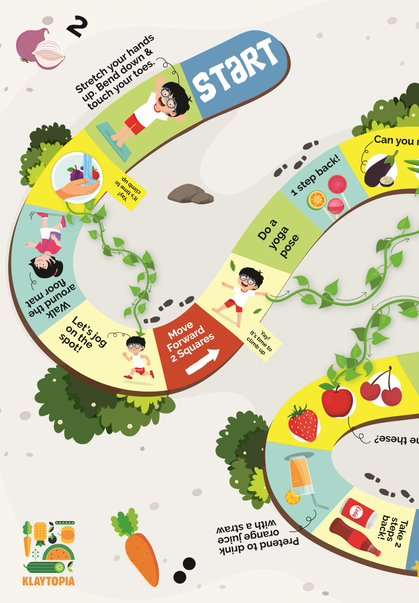 Whether you would like to use this box independently or as a part of the online learning system that augments your child's learning experience, the Klaytopia activity box is just ideal for the learning needs of your little one. And the best part? Through the activities in the box you can constructively engage your little ones and have fun as you learn, play and unwind with them.
To more about this wonderful box of joy to log onto – https://klaytopia.com/